The Caravan pitches are fully open, and bookable direct with us
on 01760 338005
As you can see from the aerial pictures below, all our Caravan pitches have Lakeside views, and have level hard standing with 16amp electric hook-ups.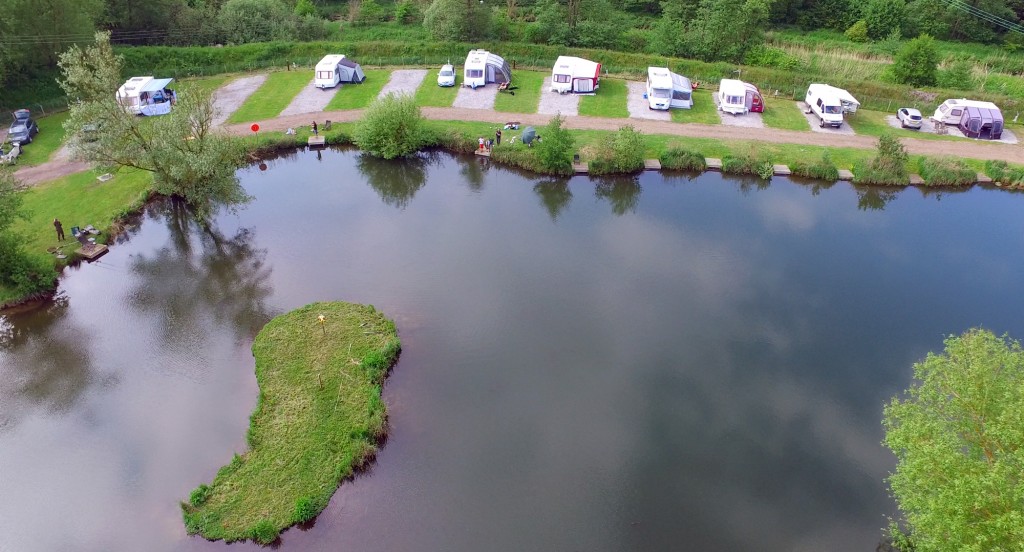 We have a simple straight forward pricing structure, and are dog friendly. Electrics, awnings etc., are all included, but Fishing is extra.
We do have a mixture of sizes of Pitches, so please specify what size you need so we can make sure everyone fits on accordingly.
Please also note that fishing on our Millers Specimen Carp lake cannot be guaranteed. Please check on our Match and Lake page for potential whole lake bookings, or please call the shop to check on 01760 338005.
WiFi is available across the site for free.
2022 Low Season – £30 per night (OCT-March)
2022 High Season – £33 per night (April-Sept)
Please email or call us (01760 338005) to see about availability.
(A non-returnable deposit will be required when booking. Please also note that aerial TV reception can be difficult to pick up, and we would recommend using a Satellite Dish.)
Here's what some of our recent caravanners have said:-
"he site was so peaceful and quiet. The facilities were exceptionally clean and Russell was friendly and helpful." April 2022
"Easy to access. Great stocked lakes. Clean and tidy site. Well stocked shop. Very helpful and friendly staff. Will definitely be back in the summer." February 2022
"We had a great couple of days. Nice tidy site, nice clean toilets and showers, adequate facilities ie bins, water, waste water and chemical toilet drains, also good fishing. Wifi excellent." October 2021
"Peaceful, quiet site. Beautiful lakes, well kept site. Local bus services are very good into King's Lynn and Norwich." October 2021
"Lovely fisheries. Everyone very friendly. Spotless sight. Great base for visiting Norfolk." August 2021
"What a cracking site. Spotlessly clean amenities block, well maintained grounds, lovely lake side pitch and a warm friendly welcome. We will return!!! With fishing rod next time though." July 2021
"We absolutely loved everything. Pitches good size, toilet and showers excellent and always clean. The staff are friendly, always willing to stop to chat, also offer assistance or advice on fishing. We will definitely be returning again very soon."  June 2021
"We loved this place and will definitely be back. The lakes were beautiful even though we weren't fishing. A lovely relaxing weekend. The facilities were very clean and well maintained." May 2021
"It was a lovely place to stay with nice views over the lakes and fantastic staff that made you feel very welcome" August 2020
"Very friendly people. Superb place to stay and relaxing. Even if we are not professionals, we caught lots of fishes" July 2020
"Great size pitch, very clean toilets and shower, great fishing and staff were very friendly and helpful." May 2019
"The pitch was right next to one of the lake's, the staff was really friendly , the site was really clean and tidy ,the toilets and showers were very clean and nice to have a little shop on site for fishing with some food and beverages ,all in all a fantastic site which was nice and peaceful, will definitely be coming back."  May 2019
"A warm welcome on arrival with a choice of all available pitches. The toilets and shower (in the singular) were immaculate and modern. Have to say probably not warm enough for me, but I am quite cold blooded! My partner came to fish and there was plenty of choice of different lakes. He settled for the one conveniently in front of our pitch and was not disappointed with plenty fish caught."  April 2019
"Friendly staff, super clean and well prepared site" February 2019
"Well kept fishery, clean and tidy in all areas. We enjoyed a week at the fishery. Friendly staff and nice and quiet in the evenings." August 2018
"The toilet where very clean and maintained, the lakes are well looked after and well stocked, the surrounding grounds are keep clean and tidy." August 2018
" Wow what a great place, we where not fishing but friends did. The owners have worked very hard to keep these lakes as lovely as they are. Toilets and shower very clean. Just walking around the lakes is so nice. Our friends enjoyed the fishing very much. We all had a great weekend and will definitely return.  Thank you." July 2018
"Good hardstand pitches, Peaceful relaxing site, Excellent fishing, Very clean wash room facilities, Friendly staff" July 2018
"Excellent clean facilities. Friendly staff, great lakes with ample fishing spots." July 2018
"The site was well looked after , toilet facilities were exceptionally clean and staff very friendly and Polite."  June 2018
"The Fishing was very good which is the reason I went. The site is very well maintained. Toilet facilities are good. The Fish and chip shop at Marham is very good." May 2018
" Liked everything. Very clean and tidy. Facilities was in tip top condition. Absolutely fab stay. Very very quiet." May 2018
"Well looked after site. Friendly staff. Enjoyed the fishing. Small tackle shop on site." May 2018
"Clean tidy, lovely and quiet. Great location just off the main road. Hubby loved the fishing." December 2017
"Had a 5 night stay and found the site to be clean well kept not to big . The fishing lakes are beautiful full of fish . Easy to find just of the A47 . Will be returning asp."  July 2017
"Fishing great, facilities were good, very friendly people running the site"   June 2017
"This site is a gem. The facilities are spotless the warden was visible and friendly. It is so peaceful we shall definitely go again and we don't fish."  June 2017
"Fantastic place friendly people, great fishing."  June 2017
"The site was overall fantastic, from the pitches, location of fishing pegs and shower & toilet blocks were lovely and clean will definitely go again."  May 2017