As you can see from the aerial pictures below, all our Caravan pitches have Lakeside views, and have level hard standing with 16amp electric hook-ups.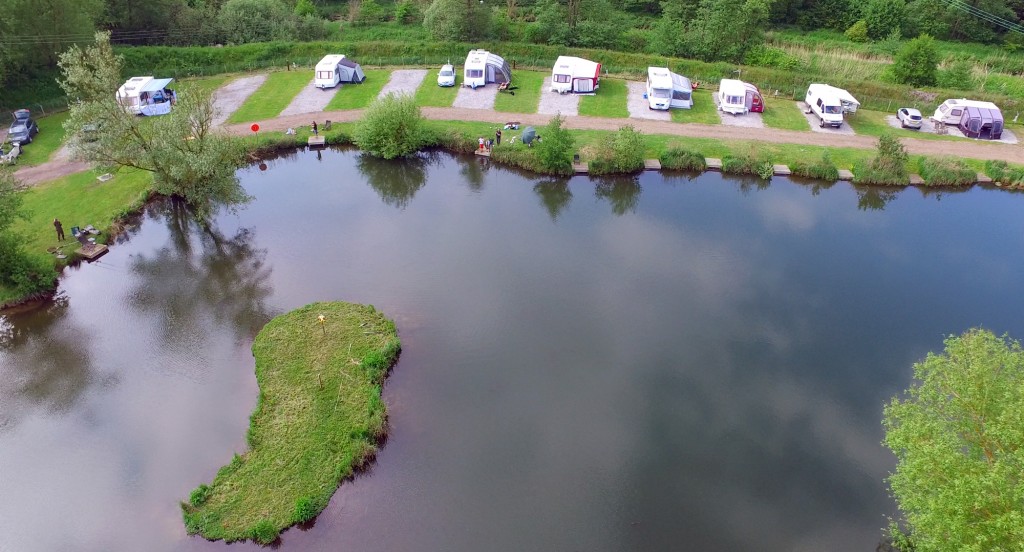 We have a simple straight forward pricing structure, and are dog friendly. Electrics, awnings etc., are all included. WiFi is available across the site at a small extra charge.
 2018 – £25 per night – Inclusive
Please email or call us (01760 338005) to see about availability.
(A non-returnable deposit will be required when booking. Please also note that aerial TV reception can be difficult to pick up, and we would recommend using a Satellite Dish.)
A lovely email from one of our caravanners :-
"… had a wonderful time, nice and peaceful, you have done wonders, the shower toilet block is clean and tidy, the whole site is kept to a high standard. Spent a day on the carp lake and managed to land one around 11lb after a good fight, can't wait to return. The wife also commented it was set out with great thought for disabled persons, she did not want to leave, hope you get a load of bookings (but not to many that we can't get a pitch) hope to see you at the end of the month."
best regards
Lloyd and Gwen Jones
Here's what some of our recent caravanners have said:-
"Had a 5 night stay and found the site to be clean well kept not to big . The fishing lakes are beautiful full of fish . Easy to find just of the A47 . Will be returning asp."  July 2017
"Fishing great, facilities were good, very friendly people running the site"   June 2017
"This site is a gem. The facilities are spotless the warden was visible and friendly. It is so peaceful we shall definitely go again and we don't fish."  June 2017
"Fantastic place friendly people, great fishing."  June 2017
"The site was overall fantastic, from the pitches, location of fishing pegs and shower & toilet blocks were lovely and clean will definitely go again."  May 2017